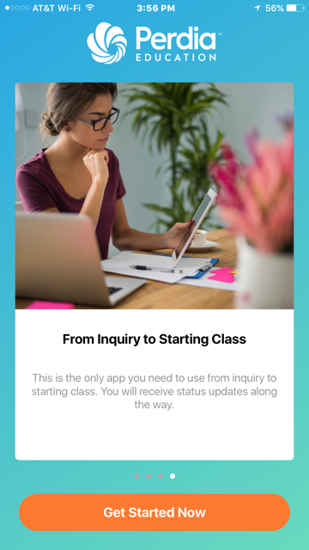 Overview
Simply stated, Emma enrolls students interested in online degree programs.
Emma is a patent-pending, revolutionary way of offering pre-enrollment support to new student inquiries. This is a fresh approach to addressing a critical need many colleges and universities offering online programs experience.
Built with AI, Emma is a mobile environment offering end-to-end pre-enrollment support. The system offers individualized and unique pathways leading students through the decision making process of returning to school. Students are guided through selecting a degree, evaluating their options, completing an online application, and nurtured through class start.
The entire system exists on the prospective student's mobile device where they have 24/7 access to "Emma", their personal assistant.
Built with flexibility in mind, the student engagement and enrollment solution works for the smallest school with only one program through to the largest online university with hundreds of programs and lofty enrollment goals – our solution is right for you and your students.
Highlights:
Mobile platform designed to step a student through their decision-making process from initial inquiry to starting class – Like TurboTax™ for enrollment management
Multiple layers of communications delivered consistently following best practices
Behavior-based marketing automation – messaging centered upon the personal experiences of each user and how they interact with the app
Student focused – uses communication modalities student's desire while providing status updates unseen in EDU today
Easy to use, both for the institution and for the prospective student
Not a call center-centric process! No outbound calls, only inbound communication from students as needed
Maximize existing admission staff, while increasing inquiries and enrollments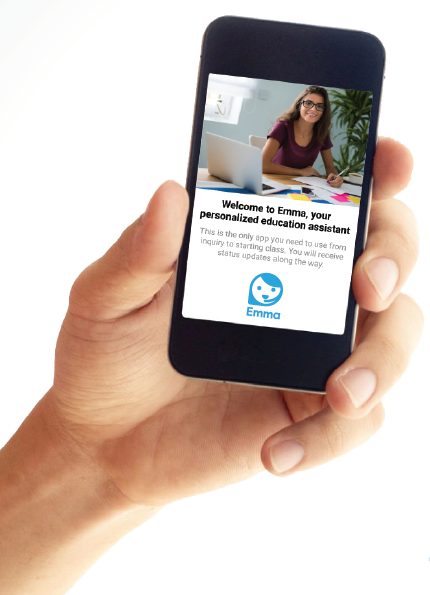 Student Benefits
Students benefit by having relevant and accurate support, in a single platform custom tailored to them. The receive the help they need, when they need it, and stay informed through the entire process. With click to call and messaging features, your staff is only a click away.
Emma Makes Research Reliable and Easy:
Interested individuals don't waste time digging for hard to find information – with Emma, everything they need is right at their fingertips.
Is Mobile and Available:
Emma is a mobile app full of easy to find information tailored to each user's questions and goals and is available anytime and anywhere.
Quick, Informative Program Comparison:
Programs and course requirements can be effortlessly compared.  Users learn about employment and earnings projections, and lots more.
Provides Confidence:
Previous educational and employment histories are matched to program requirements in real time — prior to initiating an application for admission and associated fees.
Establishes Expectations:
Breaks communication barriers through defining processes and terms in a step-by-step manner.
Links directly to and Admission Official with Click-to-Call:
An admissions official is only a message or a call away.
How It Works
As a white-labeled solution, Emma is structured to work at the Institutional level, department level, or program level. Implementation is straightforward and non-invasive to your existing structures.
Contact us today and learn how Emma will help you to reach your enrollment goals within your current budget. Lead the way in today's competitive market with Emma!