Introducing Emma - Enrollment, Engagement and Retention Management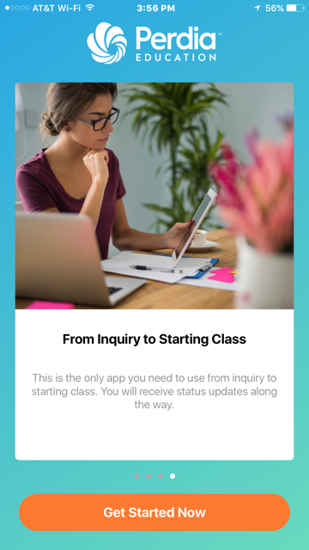 Overview
Emma is a patent pending service with a fresh approach to addressing a critical need many colleges and universities offering online programs experience. The enrollment management phase of the student lifecycle begins when a prospective student makes their first inquiry with their chosen institution and ends with the student enrolled and attending their first class.
Our mobile app offers an end-to-end, complete solution stepping students through the decision making process of returning to school, selecting a degree, evaluating their options, the online application process, post application process and starting class. The entire system exists on the prospective student's mobile device where they have 24/7 access to "Emma", their personal assistant.
Built with flexibility in mind, the student engagement and enrollment solution works for the smallest school with only one program through to the largest online university with hundreds of programs and lofty enrollment goals. Whether you are considering an OPM / Enabler relationship (and considering giving up 70% of your tuition), desiring to build your own expensive call center based enrollment team or just doing the best you can with the resources you have available – our solution is right for you and your students.
Highlights:
Mobile platform designed to step a student through their decision-making process from initial inquiry to starting class – Like TurboTax™ for enrollment management
Multiple layers of communications delivered consistently following best practices
Behavior-based marketing automation – messaging centered upon the personal experiences of each user and how they interact with the app
Student focused – uses communication modalities student's desire while providing status updates unseen in EDU today
Easy to, both for the institution and for the prospective student
Not a call center-centric process! No outbound calls, only inbound communication from students as needed
Maximize existing admission staff, while increasing inquiries and enrollments
University Benefits
Perdia Education's student engagement product offers many benefits to universities. Our partners experience enhanced student satisfaction through process automation that provides built-in consistent best practices. It is with these comprehensive communication pathways our partners achieve more, and better, enrollments into their online programs.
Retention – the keystone of our solution; unique pre-application degree and earning information, along with goals and motivation assessment helps drive enrollments that persist
Technology – built to enhance admission outreach, increasing inquiry to enrollment ratio while reducing or eliminating many overhead costs
Information Flow – student's decision-making process focused in a consistent manner, ensuring program outcomes meet with students needs while accurately driving best practices through the process
Analytics – communication and engagement strategies automatically tied to specific data points and steps within the enrollment cycle; you will know at all times precisely where every student is in each step of the process
Compliant – no outbound calls and risks of non-compliant communication
Reduced Costs – a value proposition so favorable, there is no reason not to try Emma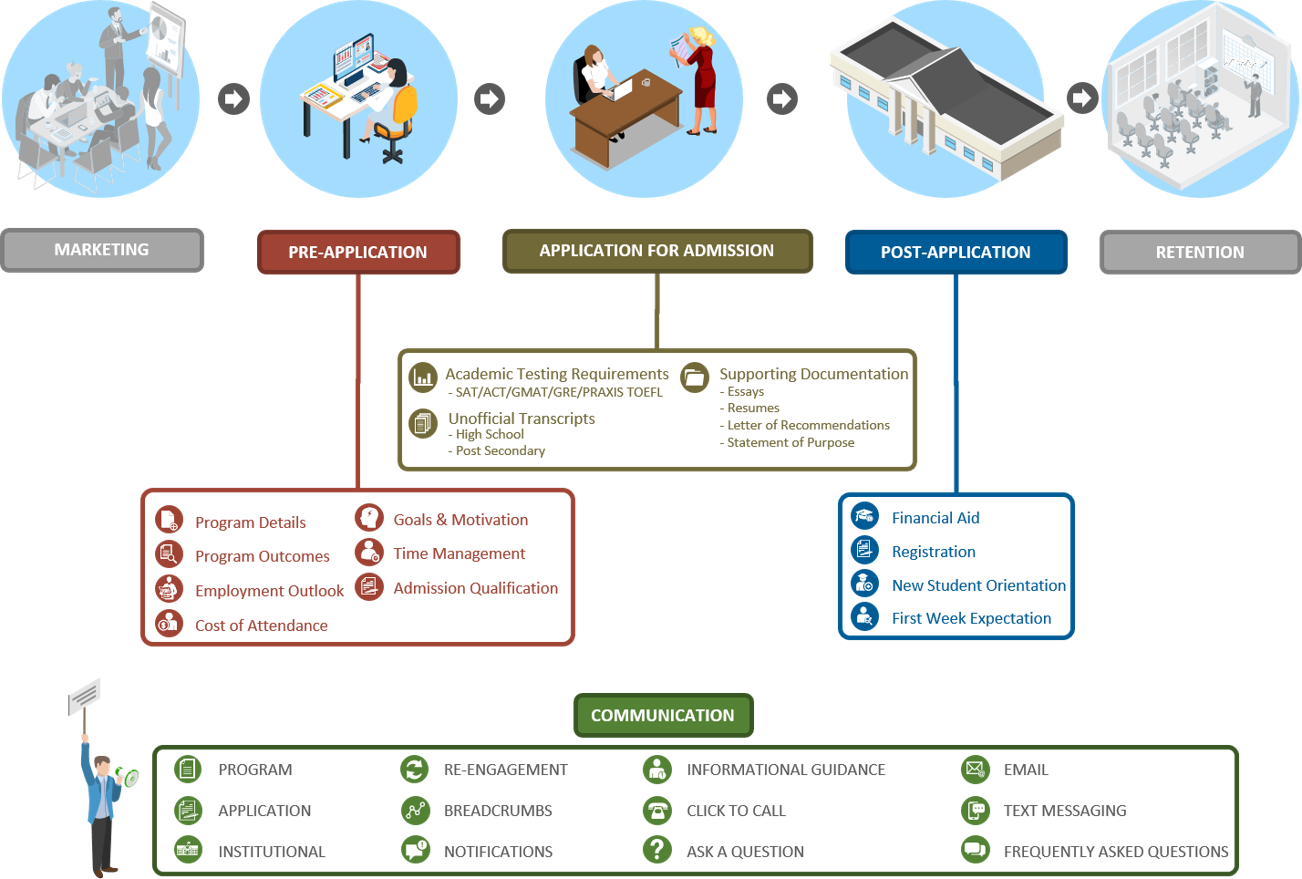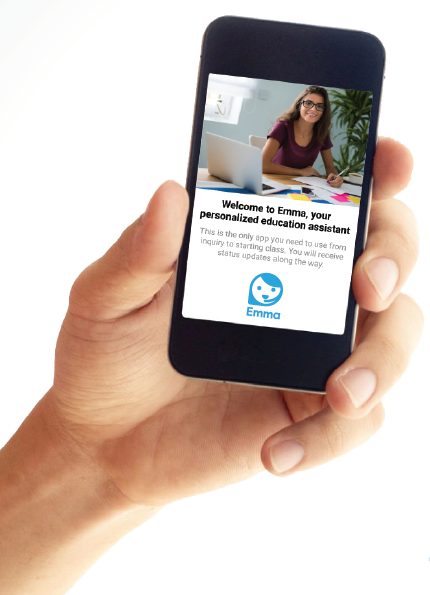 Student Benefits
Students benefit by having relevant and accurate support, in a single platform custom tailored to them. The receive the help they need, when they need it, and stay informed through the entire process. With click to call and messaging features, your staff are only a click away.
Technology – reaches students in a modality they use and prefer; their mobile device
Availability – answers questions and provide help in real-time, 24/7
Communication – integrated feedback and communication loops with critical information consolidated in one place
Facilitated decision-making:
defines student's motivation
communicates degree outcomes
reviews admission requirements
estimates costs, payment options and earning potential
guides through selection of a start date
facilitates submission of application for admission
advises of application status updates
offers new student orientation (for accepted students)
alleviates fear of start commitment (for accepted students)
How it Works
Upon initial inquiry with your school, prospective students are introduced to Emma, their personal education assistant. The user downloads the mobile app and is immediately guided through a unique journey as they discover their degree program, complete an application, and engage with your institution on starting their first class. Our mobile solution assists the students with initial questions about their degree and the process of returning to school, providing comprehensive information on your school's advantages, earning potential their selected degrees, and other key information all the way through their first day of class.
Students are able to review FAQs or click a button to call your inside team if they have unique questions. Messaging is built into the mobile platform to provide tracking of general questions – updating the FAQs dynamically to provide the most relevant, current information at all times.
Emma will arm you with details and deep data points on student activity and progress. In addition, individualized student stop out messaging through Emma help students through sticking points allowing the student to receive customized assistance and allowing your institution to receive important analytics and metrics previously unavailable. The student is guided through a step-by-step admission process where Emma gathers all information needed, then interacts with your SIS to create a student record and an application for admission review.
The beauty of Emma is a systematic implementation of the process needed at the university level, while creating a student-centric aid to foster communication, understanding, and ultimately better prepared, enrolled students. The proprietary design of the system was developed from 15 years of Enrollment Management experience across numerous online institutions. The uniqueness of the design is applying the learnings of years of experience on the student journey from inquiry to enrolled student.
The methodology of when questions are presented to students, and the communication strategies that are triggered along the pathway based on each student individually, along with keeping the student informed as to the process behind the ivory tower are what makes this system revolutionary. Our technology base makes the patent pending mobile enrollment solution something that every school and program can use to better serve students and ensure the school is following best practices in enrollment management.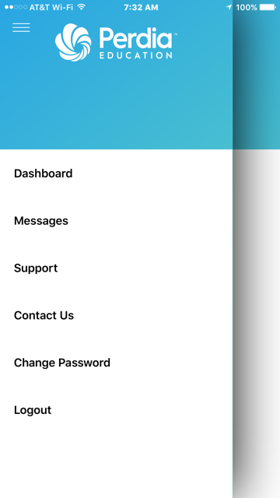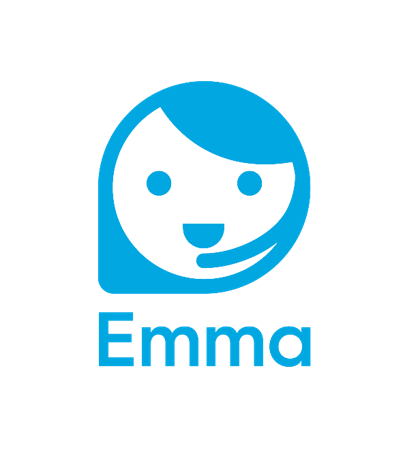 Easy Implementation
It seems whenever an institution embarks on a journey with a new student solution, many departments are asked to balance their existing workload with on-boarding priorities. Our solution has been built and designed with a simplified 6-step on-boarding process. At Perdia Education, we work with faculty and staff to seek their advice, ask detailed questions, and do most research on our own. Thus, reducing the need for cumbersome and time consuming integration processes. In short, Perdia Education's focus is to make meaningful actions effortless for both our students and our clients.
Upon executing an agreement, we'll work with you to:
Select the program(s) Emma will interact with
Schedule a round table meeting with key stakeholders to gather degree rules, admissions criteria, process points
Approve marketing materials
Execute API for SIS integration
Assign individual to enter feedback loop data
Go Live