The Future of Employee Training & Development
Providing online training, customized courses, employee assessments, employee development, educational options and so much more!
Cloud Technology
Provided through and stored securely in the cloud. Everything is accessible by you and your employees 24/7, from any location, and on any device.
Flexible Pricing Plans
We strive to provide flexible options to our clients as each has their own unique needs. Our pricing plans are flexible and offer maximum value for your budget.
Learning Management
Check! Our built-in LMS can be used to offer a variety of courses – from us, others, and from you; to your employees. It is accessible on any device and offers incredible advantages to traditional styles of training.
Custom Portal
In just a few minutes you'll have your own, branded portal. We make it simple for you to provide an education portal tailored by you to your employees.
Easy to Use Interface
Your HR or Training team will have access to easy to use and powerful tools to manage all aspects of employee development. And our cloud solution is available 24/7!
Custom Course Creation
Most companies have their own training program for employees. We can help take old training and convert it to a digital format or build completely new online courses.
Courses, Degrees & Assessments
Providing courses, degrees, assessments, and business book summaries on one platform. We offer your employees more, with less hassle.
Real Time Reporting
Within our system, you can quickly and easily see course and assessment grades, employee status and much, much more. We can even update your employees records in HRIS.
Train Your Customers
Our system can be utilized to offer customer training on products and services you offer. Help strengthen your relationship and improve your brand by training your customers!
How Skills Assessments & Training Work Together
Watch our recent Webinar with our partner eSkill to learn how employee and job applicant assessment work hand in hand with targeted training!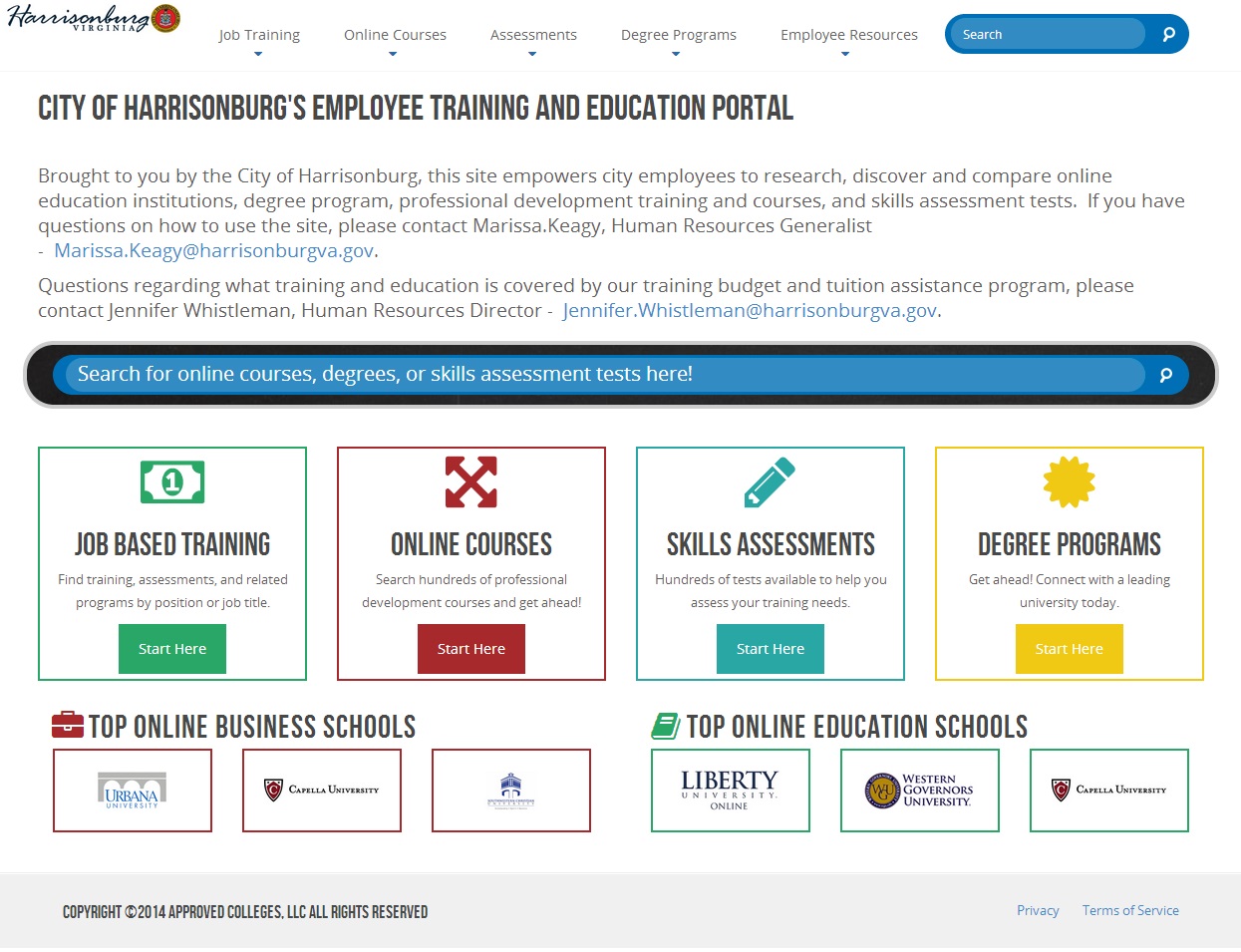 Online Training & Assessment Portal
By partnering with GetEducated.com Corporate Education Solutions, you receive your own customizable education, training, and assessment portal. Your employees will have access to a variety of information including:
15,000+ online degree programs offered by over 1,900 US colleges and universities
3,000 online professional development and compliance training courses
400+ Job and skill based assessment tests
The portal allows the inclusion of information such as policies and procedures, training guidelines, helpful links to other resources internally or externally, and other learning aids such as PDFs and PowerPoint Presentations. You can even build job based learning pathways!
A standard portal can be created in less than 10 minutes and is easily and quickly customized!
Administration Panel
With the admin panel, you may control the employee portal including:
Modifying content within the site
Turning off areas of training not be applicable for your organization
Sending skill assessment tests to current / future employees
Building job based learning pathways and associating them with training, assessments and degrees
Accessing reporting to see grades and activities
Receiving and paying your invoices through the interface
The system is cloud based, secure, and very easy to use and understand.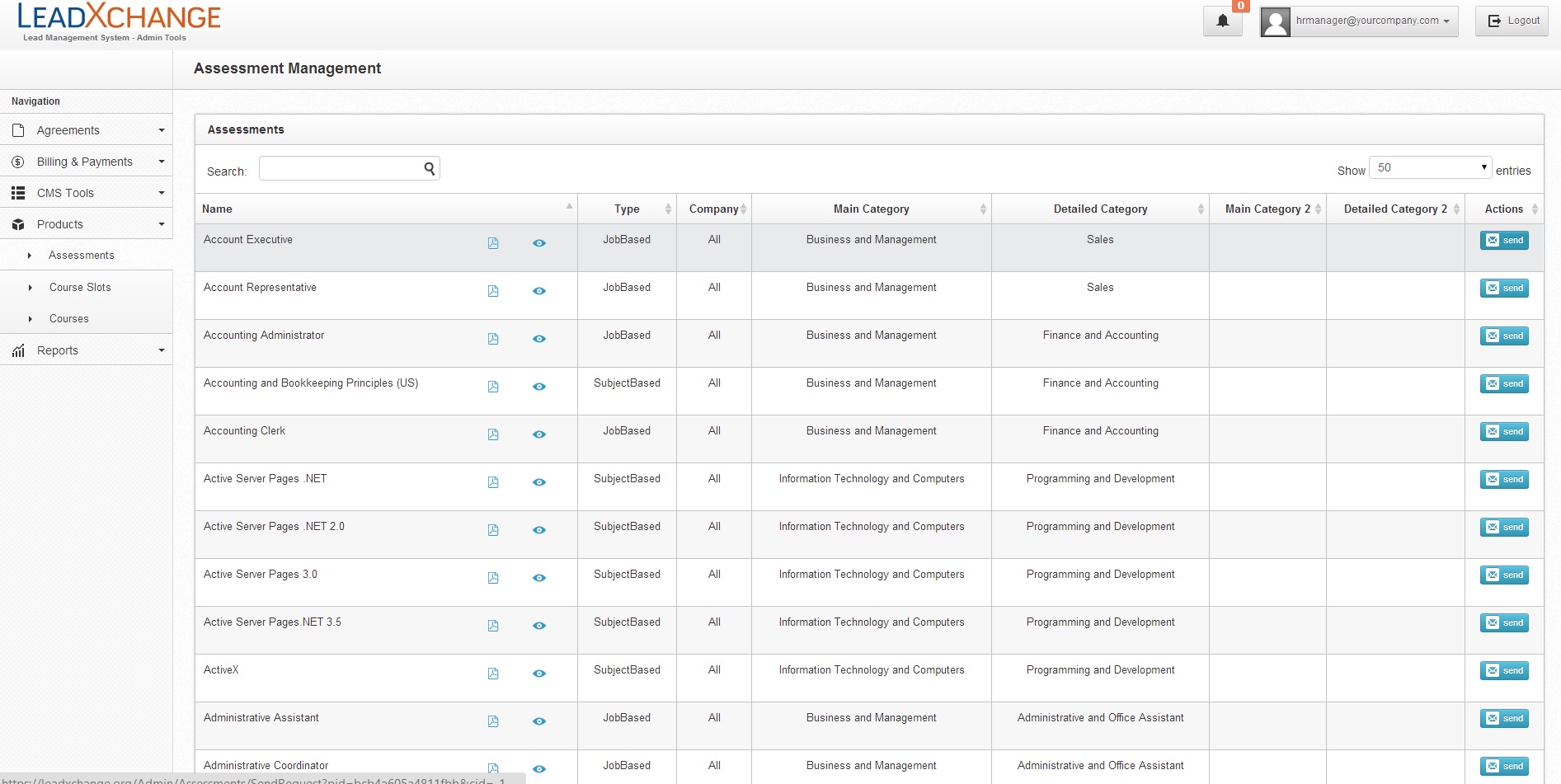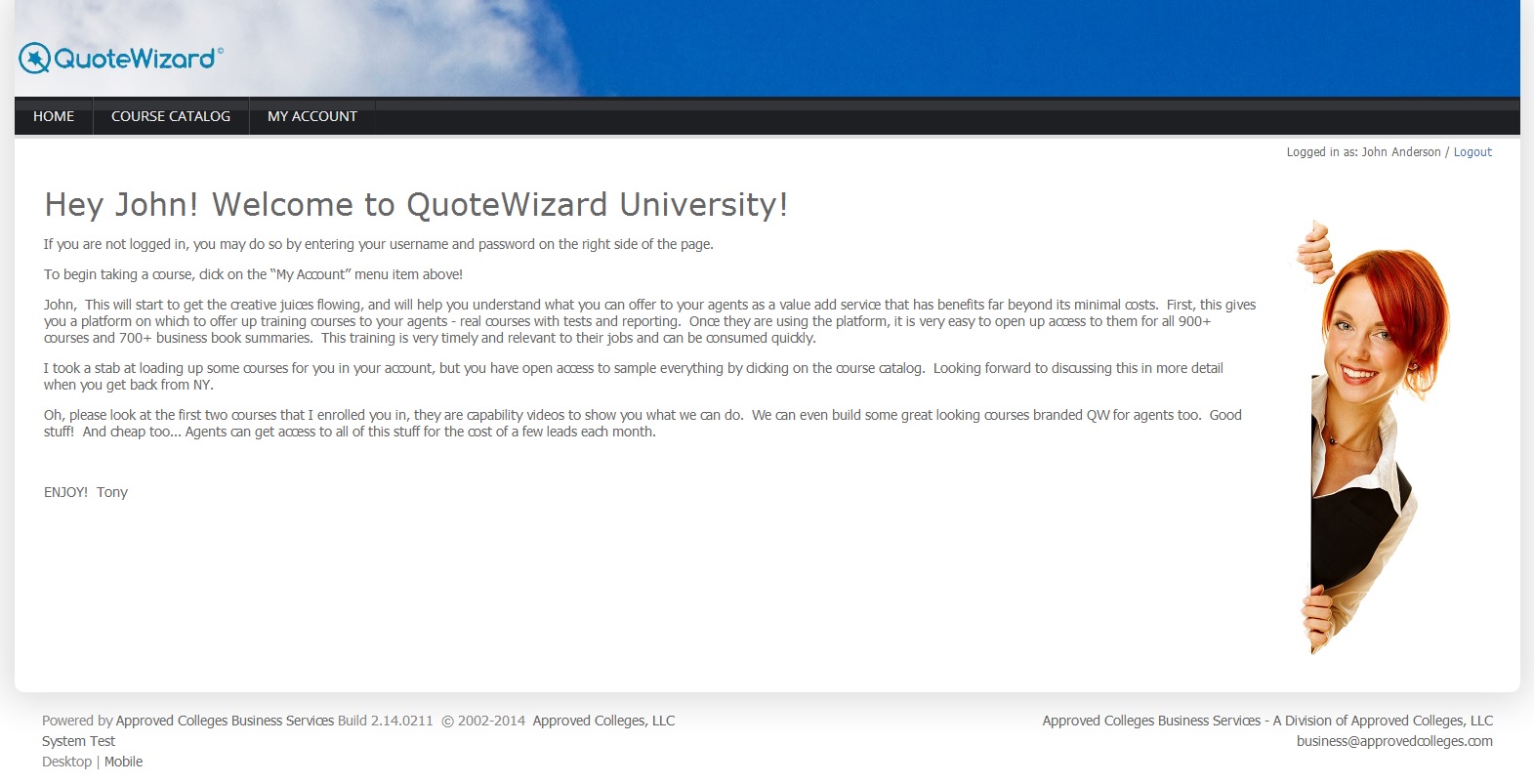 Learning Management System (LMS)
The Learning Management System (LMS) is a powerful tool to train your employees. We offer several levels of service including access to a cloud based LMS or the choice of your own company branded LMS. In either case, employees take their courses on this platform.
Users can be grouped and given access to certain catalogs of training, or provided open access. The ideal training plan calls for open access to all courseware with subsets of training marked as required for the employee. The possibilities are nearly endless and we're there to help you every step of the way. Contact us today for more information or learn more here.
Video & Content Creation
This is an example of a promotional video we created to be wrapped within an online course. The purpose of this example is to showcase our custom coursework within the Learning Management System (LMS). If logged into our LMS, the user would next be taken through a short exam to test comprehension of the content. User's grades would be recorded and saved for quick reference in reporting.
You can see from the video the many types of course work we can develop, from internal compliance training to product training for your global sales force. If you can dream it up, we can do it!
Custom Training Course Development
Have internal training that you would like to offer to your employees in an online format? Perhaps you have a regional or global sales force that must learn about new products and services, or maybe you have required compliance training you'd like to better streamline.
We can work alongside you or as an outsourced provider to build training for your work force. There are no limits to the format of the training! You can load our SCORM compliant files into your own Learning Management System (LMS) or utilize our system.
Perhaps you'd like to have online training developed that other organizations might be interested in consuming – we can do this too! We can add your courses to our directory and offer them to other businesses.
Whether your needs are training for your own employees or something that could be used by many businesses, our custom course creation services are a great fit. Watch the sample video which showcases an example of what can be done for you.